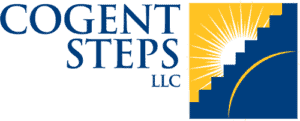 Leading you along the right path.
ABOUT US
Cogent Steps, LLC is a service disabled veteran owned small business operating to assist others to better prepare for the future through greater skills, knowledge, and understanding. We are based in Alexandria, Virginia, USA.
Our consultants have the highest professional qualifications. 
We have clinical consultants, university and college professors, retired military professionals, emergency medical response professionals and access to those who support non-governmental organizations. We combine a broad range of experience with specialized knowledge in the management of emergency care in many environments. Our consultants are located throughout the United States, with flexible schedules to meet the needs of our clients.
For further information about each instructor, please visit our staff page.
Background.
Cogent Steps, LLC is owned by I. Reid Bessenger and Michele Leavitt Weinstein, PT, EdD, SCS, ATC. We have a depth of experience providing direct support to private clinics, universities, professional and national athletic organizations and other organizations. Cogent Steps, LLC brings the skills and knowledge needed in the area of Emergency Management to the client.
We are an active part in our community, including local, regional, national, international and professional. We are dedicated to improving the lives of those around us!
Why train at Cogent Steps?
We are an NATABOC Approved Provider. Our curriculum is independently certified. Cogent Steps, LLC is uniquely qualified to support our clients in the administration, oversight, and complete support of the Emergency Response for the Athlete and Emergency Medical Response. Our long term relationship with the sixth largest marathon in the US provides an enhanced experience for our enrolled students and instructors.
Who trains at Cogent Steps? 
Registrants may include students and licensed providers in athletic training, nursing, physical therapy and physicians. Their organizations include sports residencies, professional athletic teams, Olympic teams, regional and individual clinics, youth athletic leagues and more. Cogent Steps, LLC is not an approved educational provider for firefighters and EMT professionals who need to complete training and testing for the national registry exam.
EMERGENCY RESPONSE FOR THE ATHLETE (ERA)
Designed for physical therapists and athletic trainers, licensed providers in athletic training, nursing, physical therapy, and physicians who want specialized training in sideline and venue emergency management of the athlete.
NEW ERA RECERTIFICATION COURSE
Renew your Emergency Response for the Athlete (ERA) Certification with Cogent Steps. Our ERA Recertification Course is now available for live and virtual registration.
YOUTH SPORTS: SPECIAL CONSIDERATIONS COURSE
The interactive online Youth Sports: Special Considerations home study course is designed to enhance knowledge of both acute and overuse injuries of the young athlete.
Privacy Policy
This Privacy Policy discloses the privacy practices for Cogent Steps LLC and for www.cogent4stg.wpengine.com.
WHAT INFORMATION DO WE GATHER ABOUT YOU?
We collect information from you when you access www.cogentsteps.net when you login to your Leaner Account.  The information includes your name, email address, IP address, mailing address, and method of payment for those who purchase goods or services on the website.
WHAT DO WE USE YOUR INFORMATION FOR?
We use your IP address to help diagnose problems with our server and to administer our website by identifying which parts of our site are most heavily used. We do not link IP addresses to anything personally identifiable. This means that user sessions will be tracked, but the users will remain anonymous.
The email address you provide may be used to send you information, respond to inquiries, and/or other requests or questions.
User information may be shared with third-party partners to the extent necessary to provide and improve web services or other communications to users. Any third parties who receive user information for this purpose are prohibited from using or sharing user information for any purpose other than providing services to users.
We may also provide your information to third parties in circumstances where we believe that doing so is necessary or appropriate to: satisfy any applicable law, regulation, legal process or governmental request; detect, prevent or otherwise address fraud, security or technical issues; or protect the rights, property or safety of us, our users or others.
DEVICE INFORMATION COLLECTED BY US
We may collect non-personal information about the computer, mobile device or other device you use to access www.cogent4stg.wpengine.com, such as IP address, geolocation information, unique device identifiers, browser type, browser language or other information of this nature. We use this information in an aggregate fashion to track access to www.cogent4stg.wpengine.com. At no time do we disclose site usage by individual IP addresses.
COOKIES
Cookies are small files that are stored on your computer (unless you block them). We use cookies to understand and save your preferences for future visits and compile aggregate data about site traffic and site interaction so that we can offer better site experiences and tools in the future. We may contract with third-party service providers to assist us in better understanding our site visitors. These service providers are not permitted to use the information collected on our behalf except to help us conduct and improve our business.
THIRD-PARTY COOKIES
Cookies may be set by an organization other than Cogent Steps. These "third-party cookies" may, for example, originate from websites such as Twitter, Facebook, Google Plus or other social media services for which Cogent Steps has implemented "plug-ins." Since the cookie policies of these sites change over time, you should determine their policies by visiting the privacy policy pages of these sites directly.
You may disable cookies through your individual browser options. If you would like to learn more about cookies please refer to the following website: http://www.allaboutcookies.org/
LINKS TO THIRD-PARTY WEBSITES
We may provide hyperlinks to third-party websites as a convenience to users of www.cogent4stg.wpengine.com. Cogent Steps does not control third-party websites and is not responsible for the contents of any linked-to, third-party websites or any hyperlink in a linked-to website. We are not responsible for the privacy practices or the content of third-party websites.
EMAIL POLICY
We will not share, sell, rent, swap or authorize any third party to use your email address for commercial purposes without your permission.
INFORMATION PROTECTION
To prevent unauthorized access, maintain data accuracy and ensure the appropriate use of information we gather about you, we have taken commercially reasonable steps to protect the information. However, no method of transmission over the Internet, or method of electronic storage, is 100% secure.
CHANGES TO THIS POLICY
This Privacy Policy may be amended from time to time. Any such changes will be posted on this page. The effective date of this policy was June 1, 2019.
RECORD RETENTION AND DESTRUCTION POLICY
1)           Purpose
The purpose of this Policy is to ensure that necessary records and documents of are adequately protected and maintained and to ensure that records that are no longer needed by Cogent Steps LLC or are of no value are discarded at the proper time.  This Policy is also for the purpose of aiding employees of Cogent Steps LLC in understanding their obligations in retaining electronic documents – including e-mail, Web files, text files, sound and movie files, PDF documents, and all Microsoft Office or other formatted files.
2)           Policy
This Policy represents the Cogent Steps LLC's policy regarding the retention and disposal of records and the retention and disposal of electronic documents.
3)           Suspension of Record Disposal In Event of Litigation or Claims
In the event Cogent Steps LLC is served with any subpoena or request for documents or any employee becomes aware of a governmental investigation or audit concerning Cogent Steps LLC or the commencement of any litigation against or concerning Cogent Steps LLC, such employee shall inform the Ownership and any further disposal of documents shall be suspended until shall time as the Ownership, with the advice of counsel, determines otherwise. The Ownership shall take such steps as is necessary to promptly inform all staff of any suspension in the further disposal of documents.
4)           Applicability
This Policy applies to all physical records generated in the course of Cogent Steps LLC's operation, including both original documents and reproductions.  It also applies to the electronic documents described above.
This Policy was approved by the Ownership of Cogent Steps LLC on June 1, 2019.