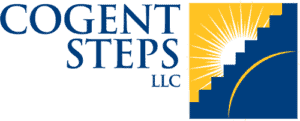 Leading you along the right path.
ABOUT US
Cogent Steps, LLC is a service disabled veteran owned small business operating to assist others to better prepare for the future through greater skills, knowledge, and understanding. We are based in Alexandria, Virginia, USA.
Our consultants have the highest professional qualifications. 
We have clinical consultants, university and college professors, retired military professionals, emergency medical response professionals and access to those who support non-governmental organizations. We combine a broad range of experience with specialized knowledge in the management of emergency care in many environments. Our consultants are located throughout the United States, with flexible schedules to meet the needs of our clients.
For further information about each instructor, please visit our staff page.
Background.
Cogent Steps, LLC is owned by I. Reid Bessenger and Michele Leavitt Weinstein, PT, MS, SCS, ATC. We have a depth of experience providing direct support to private clinics, universities, professional and national athletic organizations and other organizations. Cogent Steps, LLC brings the skills and knowledge needed in the area of Emergency Management to the client.
We are an active part in our community, including local, regional, national, international and professional. We are dedicated to improving the lives of those around us!
Why train at Cogent Steps?
We are an NATABOC Approved Provider. Our curriculum is independently certified. Cogent Steps, LLC is uniquely qualified to support our clients in the administration, oversight, and complete support of the Emergency Response for the Athlete and Emergency Medical Response. Our long term relationship with the sixth largest marathon in the US provides an enhanced experience for our enrolled students and instructors.
Who trains at Cogent Steps? 
Registrants may include students and licensed providers in athletic training, nursing, physical therapy and physicians. Their organizations include sports residencies, professional athletic teams, Olympic teams, regional and individual clinics, youth athletic leagues and more. Cogent Steps, LLC is not an approved educational provider for firefighters and EMT professionals who need to complete training and testing for the national registry exam.
EMERGENCY MEDICAL RESPONSE FOR THE ATHLETE (ERA)
Designed for physical therapist and athletic training students, licensed providers in athletic training, nursing, physical therapy, and physicians who want specialized training in sideline and venue emergency management of the athlete.
EMERGENCY MEDICAL RESPONSE COURSE & RECERTIFICATION
Tailored to the professional rescuer, the Emergency Medical Response course by the American Red Cross provides comprehensive training that gives the participant the knowledge and skills needed to perform lifesaving interventions on critical patients.
SPORTS AND PEDIATRICS ONLINE COURSE
Details Coming Soon to Cogent Steps, LLC.