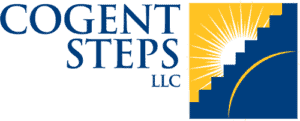 Leading you along the right path.
EMERGENCY MEDICAL RESPONSE (EMR)

Cogent Steps, LLC, is an NATABOC provider offering a new Emergency Response for the Athlete course, a full Emergency Medical Response Course, and a one-day EMR recertification option to meet student needs.
THE EMR FULL COURSE IS BEING PHASED OUT ON DECEMBER 31ST, 2018.
COGENT STEPS WILL CONTINUE TO OFFER THE EMR RECERTIFICATION COURSE.
REMEMBER: Per ABPTS and the Sports Specialty Council, you must keep your Acute Management of Injury and Illness (ERA/EMR) current during the 10 years of certification. Throughout the Maintenance of Certification cycle you will need to show proof of EMR.
The new Emergency Response for the Athlete course is good for 3 years while the EMR is good for 2 years. Please note the MOSC cycle is 3 years. If your EMR certification lapses for more than 60 days, you will need to take the full 3 day course versus the 1-day recertification. There is no grace period offered if the ERA certification lapses.
Tailored to the professional rescuer, the Emergency Medical Response course by the American Red Cross provides comprehensive training that gives the participant the knowledge and skills needed to perform lifesaving interventions on critical patients. The course provides the necessary tools for the rescuer to help sustain life reduce pain and minimize injury during out-of-hospital medical and traumatic emergencies—while awaiting or alongside higher-level personnel at the scene. The curriculum meets and exceeds the requirements set by the National EMS Education Scope of Practice for an Emergency Medical Responder, however it is not an approved educational provider for firefighters and EMT professionals who need to complete training and testing for the national registry exam.
Core skills include: assessments, CPR, AED, airway and ventilation, medical and trauma emergencies, EMS operations, pharmacological intervention
Additional enrichment modules include: training in asthma, anaphylaxis, epinephrine auto-injectors, C-collar and spine boarding, and more.
Successful completion of both written and practical examinations is required for this course. Final practical examination will include successful completion of the following: bleeding control and shock management, trauma victim assessment and management, airway insertion and suction, management of injuries to soft tissue and skeletal structures and management of head, neck, and back injuries.
To facilitate effective learning, the instructor to student ratio is one instructor for fifteen students.
Following successful completion of the course, the participant will be awarded an American Red Cross Emergency Medical Response certificate and the American Red Cross CPR for the Professional Rescuer certificate, both valid for two years. In addition after successful completion physical therapists and athletic trainers are awarded Continuing Education Credits based on the length of course completed.
Full EMR course
This 3-day course that covers all aspects of Emergency Medical Response including CPR, wound and fracture management, spine boarding, Emergency Medical system, pediatrics, specialty populations, environmental management, systemic review of body systems and injuries as related to sports. The student is responsible for both written and practical tests.
Workbook must be completed prior to attending course. (24 CEU's)
This course will be phased out on December 31st, 2018.
One day re-certification course
"NO WORKBOOK is required for the one day course that reviews all aspects of Emergency Medical Response including recertification in CPR, review of wound and fracture management, spine board, specialty populations as related to sports. The student is responsible for successful completion of a practical test.
This course is open for students who are no more than 60 days in lapsed expiration of their last EMR course (8 CEU's)